10th - 13th April 2018
Off The Rock Productions Presents…
Not So Funny Now
A Hollywood scandal in black and white. And every shade of grey.
By Mike Hickman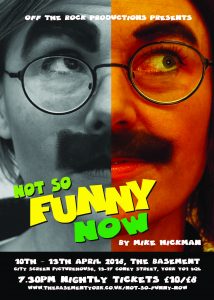 "Learn from the mistakes of others. You can never live long enough to make them all yourself." - Groucho Marx
Behind the moustache and the glasses, there was the man. Behind the man there were the wives – Ruth, Kay and Eden. And after the wives came Erin.
Returning to the scene of her greatest triumph - Carnegie Hall, 1972 - Erin finds the very worst that she has been accused of waiting for her.
It is definitely not so funny now.
The Basement, City Screen Picturehouse, 13-17 Coney Street, York YO1 9QL
7.30pm nightly Tickets £10/£8
http://www.thebasementyork.co.uk/not-so-funny-now